This month in ABCJesusLovesMe we are learning about the Creation Story and also learning about Circles and the Letter A. I started reading the Creation Story with the kids last week and Gianna & Madison enjoyed looking at the pictures and coloring the Day 1 and Day 2 pictures found on the website. All I had to do was print and let them color the pages. I am probably going to let them color them again as I want to have them keep all their artwork and activities in a notebook that will be dedicated toward their Tot School experience so they can review them and feel some ownership in their learning.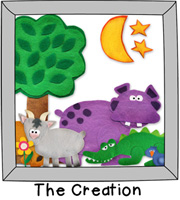 I found the Creation Story Activity HERE
It can be cut out and used on the flannel board or you can let the kids make a collage of all the days or each individual day. I love how BIG the pictures are for toddlers and it should be easy for Madison who is almost 5 and working on her cutting skills to cut out with help.
Creation Story Color Sheets HERE
We've also been working on our Creation Fingerplay and our verse song from Gen 1:1
Number Practice: Tracing, Counting and Number Recognition. We'll be using these probably every other week.
Numbers 1-5
Numbers 6-10
Shape is a Circle and I found these cute cut-paste pictures that Madison can cut out and categorize. She is having some issues with cutting straight and on the curve so these cutting sheets will also help her. Mama's Learning Corner has Apple Sheets and Gianna will work on the 3 piece rectangle pages (pasting not cutting) and Madison will work on the 3-4 piece sheets that are in different patterns. Click HERE for Apples and HERE for pumpkins in October
Part of the reason I picked out these particular worksheets for Madison is because Following Directions is something Madison really needs work on & she argues about everything. So, this is something we will be definitely working on this fall.
Lastly, one of the things I want to start doing for Gianna is creating with her a Sensory Box every month. This months theme was Apples and she and I put together a Apples & Cinnamon Box based on this post and so that was today's project. Gianna had a blast pouring, digging, moving the oats from spoon to cup or bowl. I added some Cinnamon & Allspice to the oats for the good smells and she played with it for about an hour. I was really surprised how long she played with it. She wasn't very interested in the letter A's nor in the red/green ball that I painstakingly painted for her to play with.
Bible Time:
One of the things I really like about ABC Jesus Loves Me's curriculum is that the verses are put to music for the kids to help them remember their verses. This months verse is: Gen 1:1 God created the heavens and the earth and the curriculum includes a fingerplay and the children learn hymns like "This Little Light of Mine" and "The B-I-B-L-E" along with several songs I haven't heard of. I'm hoping that they learn the "123 Jesus Loves Me" and
Gianna is loving learning the fingerplays & songs that go with our Bible Time - she got right into the fingerplays and I've heard her humming and singing in her own little way other songs that we sing so I'm sure I'll soon be hearing these too.
Have a GREAT September everyone -
Stay tuned to see pictures of some of the activities and fun things we are going to do - I'll try to shoot a picture or video of our songs & some of the other things we'll be doing. =D