For the last 4-5 months Gianna (2) and I have been working on little songs each month to learn. Sometimes they are picked due to the season, sometimes she'll hear a song that she wants to learn and sometimes like this month I choose what song we are going to work on. So far we have learned the following songs (links to lyrics are in the brackets):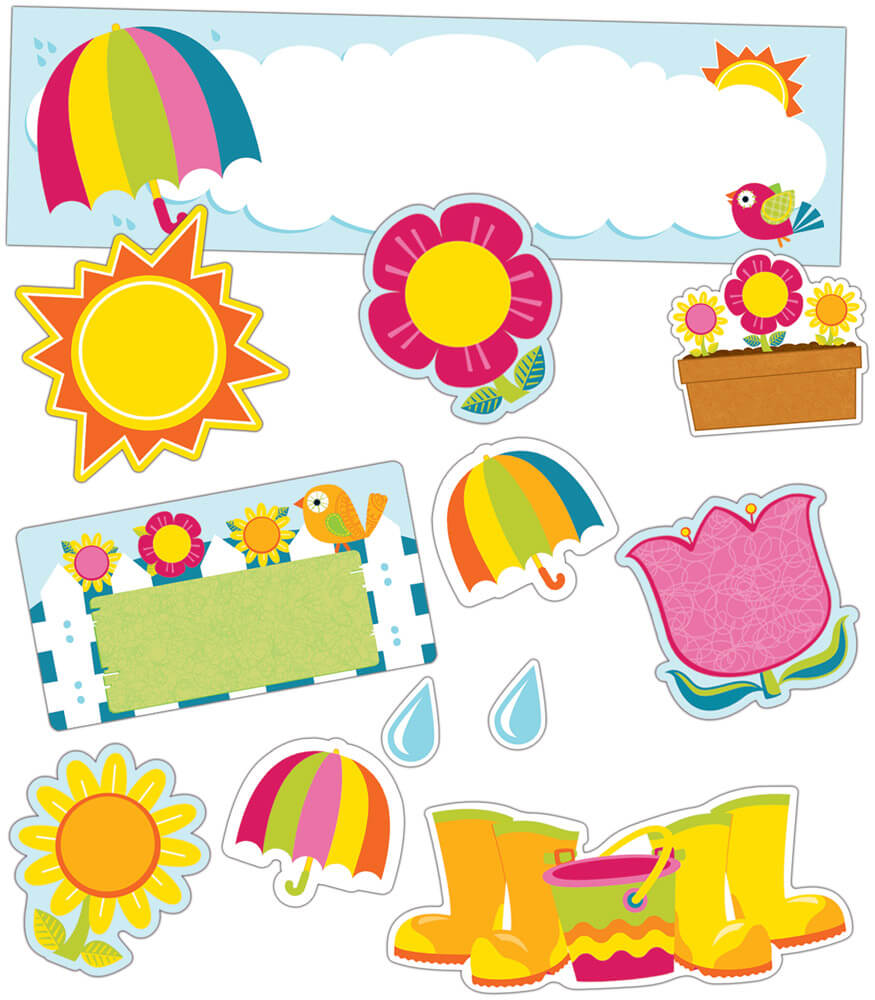 November/December: Frosty the Snowman
January: the "Joy Joy" song (I've got the joy, joy, joy down in my heart!) (
click here
)
February: ABCDEFG Jesus Died for You and Me! (
click here
)
March & April: Various Fingerplays and Rhymes.
One of the things I like to do especially with songs that aren't as familiar to me or maybe I don't remember the words 100% from my own childhood is post little posters on the wall so I can see the words at a glance. Carson Dellosa sent me one of the
Mini Bulletin Set
and I made up a cute display that I can look at it during our lunches & snacks which is when Gianna and I sit and visit while we eat.
In the "display" above I posted our Spring Bucket List using Blank Header so we could refer to a list of activities for Gianna (and Connor/Madison) when they are bored (or driving me nuts) and need to find something fun to do. I also used 4 of the Small Signs to write out 4 finger plays we are learning and several of the little accent pictures with nursery rhymes. It makes it MUCH easier if we can just refer to a card as we are learning these rhymes & songs and Gianna uses the pictures on each card to find a song or rhyme she wants to work on.
I also needed a calendar display near the front door to refer to for playdates, craft shows for my Therapy Pack business as well as a place to put artwork and pictures of the kids. All of the pieces (the watering can, raindrops, umbrellas, flower pot accent piece and flower accent come from the same set and I still have more pieces although not a lot of them to use for other things. I'm thinking about making up a weather display and may use an umbrella and a raindrop for the rainy weather picture and we'll talk about rainy days as well as Sunny Days and appropriate clothes and gear we might need on those days.
I really liked the
Spring Mini Bulletin Board Set
- it's very versatile and while I am using it for tot school I think you could use it to create a game using the Blank Header for Counting and Alphabet review, use the raindrops and umbrellas for calendar time or perhaps to make up a folder game to review math or phonics problems and so much more. It's only $6.99 too!
The Fingerplays and Nursery Rhymes used in the top display are:
1) 5 Little Green & Speckled Frogs
2) This is my Garden
I'll plant it with care.
Here are the seeds
I'll plant in there.
The Sun Will Shine,
The Rain will fall
The Seeds will sprout
and grow up tall!
3) Mary Mary Quite Contrary
4) Jack N Jill (she LOVES this one)
5) Here are the Bees Hives (and this one)
Where are the Bees?
Hidden away where no one sees (make a fist)
Soon they'll come creeping
Out of the hives
1, 2, 3, 4, 5 Bzzzz
(hold fingers up as you count and then go Bzzzz!)
6) Here is a bunny (hold up 2 fingers)
With ears so funny
And here's a hole in the ground. (make a hole with your other hand)
At the first sound she hears
She pricks up her ears (stand fingers up tall)
And pops right into the ground. (pop fingers into the hole)
Disclaimer: I received a package of the Spring Mini Bulletin Board Set to review. I was not required to have a positive review only to share my honest opinion. Thanks for reading!