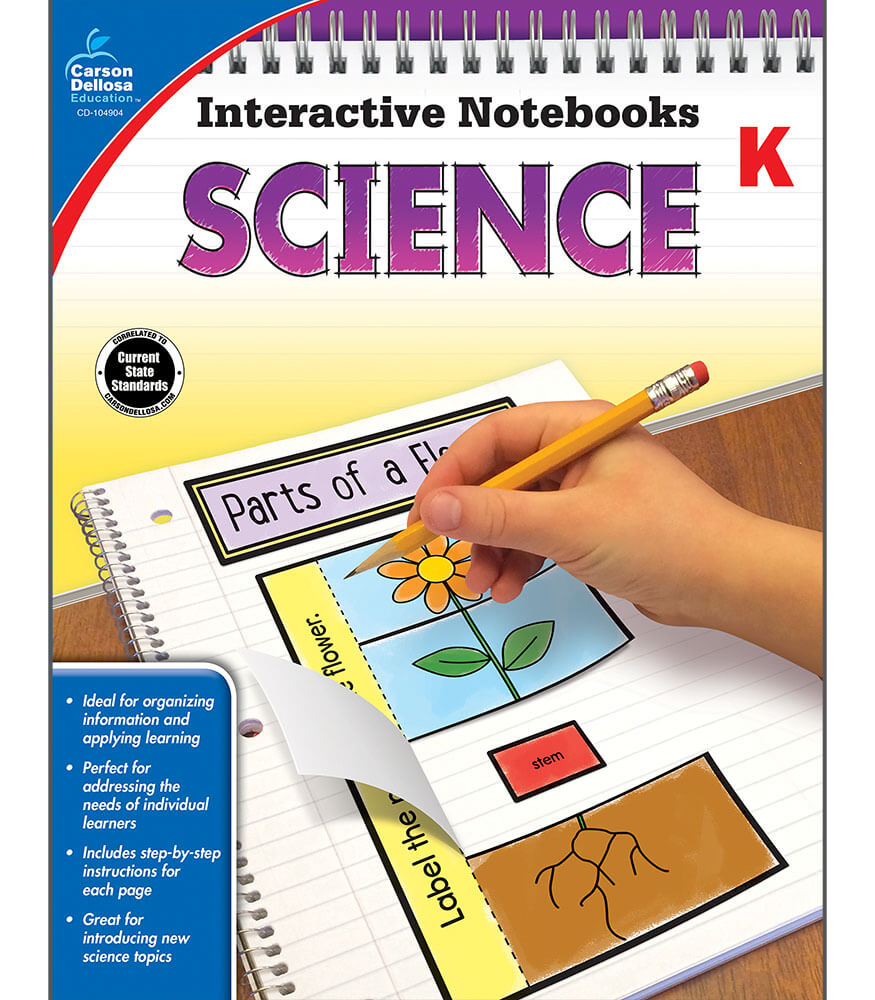 When you were a child did you learn better with rote memory work - or hands on interactive learning? I've always been a visual learn myself and would of loved working on Interactive Notebooks in Science & Natural History classes especially. I've always enjoyed books that incorporate flaps, wheels, charts, and other hands on methods for learning. The opportunity to "make it myself" would of been a huge plus too!
Today I wanted to share another book from the Interactive Notebooks series from Carson Dellosa. I've used their books for years both as a nanny and a daycare provider & I like how complete their books are and yet I can still tweak many of the activities to meet a variety of ages.
by Carson Dellosa Publishing
$9.99 (paperback) (ebook)
Details (from the website):
1) Kids learn about 5 senses, plants, animals, physical properties, motion, day & night & more!
2) Notebooks are personalized to fit kids' learning needs by creating fun, colorful pages for each top. Kids learn organization, color coding, summarizing & other skills.
3) Kids will refer back to and "read" their books over and over again which encourages review and constant learning.
4) Each book focuses on grade-specific math, language arts or science. Books are for grades K-8.
5) Each book is aligned to Common Core & meet current state standards.
6) Each book contains 96 pages of lesson plans, printables and more.
My thoughts:
I recently received the Interactive Notebooks Science book for Kindergartners and have had fun looking through it. I don't know about you but I am SOOOO ready for Spring to be here and to be honest I'm ready to jump the gun a bit and drag out my plants, seeds, pots and soil and have some fun with the little kids. How about you?
The Interactive Notebooks Science book is a 96 page teacher's guide that includes printables, how to's, covers Life Science, Physical Science & Earth and Space Science and I think with 2 year old Gianna instead of doing a whole notebook we would take it in small chunks and use the printables & ideas for learning about the 5 Senses, Plants, Animal Habitats and maybe Space. I'd take an activity for the Stars & Animals and make it tie into some of her favorite songs like Old MacDonald & Twinkle Twinke Little Star as well as He Has the Whole World In His Hands. She could easily do one page activities during her Tot School Time.
You can purchase this book on Carson Dellosa's website here or you can also find it on Amazon here for the same price. If you purchase it on Amazon I receive a small commission which helps me provide fun Tot School Activities & toys for Gianna & it's greatly appreciated!
I have reviewed other Carson Dellosa items. Click the image below to read those reviews as well:
Disclaimer: I received this book from Carson Dellosa in exchange for my honest review. No money exchanged hands and I was not required to have a positive review. Thanks for reading GivingNSharing!