HomeSpa 100% Natural Shower Sprays are made using the same ingredients as you would find in many of the Spa's from around the world. There are 4 scents: Eucalyptus, Lavender, Pink Grapefruit and Tangerine. All are blended to help relieve stress, clear the mind and help you relax.
I received all 4 of the shower sprays to use at home and have tried all but the Lavender (I'm not real fond of Lavender & will share that with a friend). I liked using them in the kitchen in the sink to give a little spray of scent to the air (with 3 kids you'll understand why I like that) and I used the Pink Grapefruit and Tangerine after washing dishes.
I tried using it in the bathroom and I didn't really notice much of a scent in the shower. But I tried it at the beginning of my shower and I think the water just diluted it to fast. I read a review on Amazon and one customer used the eucalyptus to relieve his sinuses (which I'm very intrigued by & and will see if it helps next time) and another said she sprayed it just before she got out of the shower and it coated her skin - it would be just like using a fragrance spray and would definitely stay longer. I am going to try that. Watch for an update!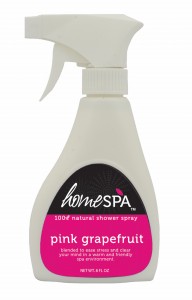 Pink Grapefruit Shower Spray - have any of you used the Pink Grapefruit diet? Supposedly Pink Grapefruit

triggers your body to start burning fat and smelling it also helps with controlling your appetite. The minute I saw the Pink Grapefruit spray I was tempted to give that one a try first. I can't tell if it actually did anything - but I think I'll give it a few more days and see if it helps with some appetite suppression (I'll eat a little grapefruit as well to give it a boost!)
You can purchase the HomeSpa 100% Natural Shower Sprays online on their website ($12.99) and also on Amazon ($12.95). With Amazon you will click on "color options" to choose your scent - they don't have them listed individually which would make it a lot easier to make sure you got the one you wanted. It would make a great gift for a friend's birthday or in your mother's day gift package.
Would you like to WIN a bottle to try out at home?

I have 5 bottles to give away & we'll have 5 winners! I'm going to keep this one easy - as usual I have 2 mandatory entries: Your Contact information in full and Share it by Social Media (I'll include what you should post w/ links). Ends 2/10, US please
Winner #5 is: Fee (Phyllis) R is a WINNER!
Want MORE Giveaways? I'm linked up @:

Disclaimer: I received all 4 scents to use and review on GivingNSharing. I was not required to have a positive review and no money exchanged hands.