a Rafflecopter giveaway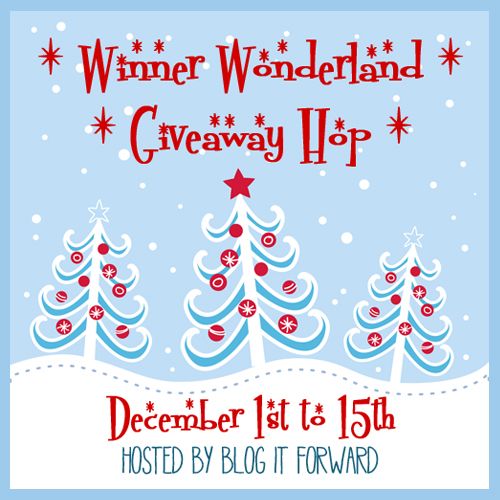 Welcome to the Winner Wonderland Giveaway Event. This event is hosted by Blog It Forward, Taking Time For Mommy, And The Little Ones Too, Put A Little Umbrella In Your Drink, and My Mommy's World. This event features giveaways with a value of $25 or more at each of the participating blogs! Be sure to visit each blog from the linky below and enter for your chance to win! This event will close on December 15th at 11:59 pm EST. Good Luck and have a winning holiday season!
A note from Tina @ GivingNSharing:
Thanks for visiting us! I have 2 giveaway packages available - 1 on CCB (a Thermal Aid Zoo Animal & The Nutcracker Music Game for 1 winner and 5 winners will receive a Zoo Animal of their choice) and GivingNSharing has a Thermal-Aid Medium Sectional to give away!!
1 Winners -

Medium Sectional Heat Pad

- Val: $30.95
Engineered to eliminate pain and swelling from arthritis, sports injuries, and more. These products range in size and can be used as hot or cold therapy packs. Holds heat longer and it's clinically proven to relieve: fever, sunburn, earaches, back and neck pain, flu symptoms, sprains, bee stings, headaches, sore muscles, growing pains, insomnia and much more!
"Thermal-Aid" has been tested on patients and animals with many different pain ailments including arthritis, fibromyalgia, broken bones, multiple sclerosis, migraines, back pain and various muscle aches. The healthcare community and veterinarians are thrilled to recommend Thermal-Aid to their patients & care-givers to help soothe and comfort.
My thoughts:
This year much of my focus has been on relieving the Fibromyalgia pain that in the last 5 years has gotten much worse. I currently visit the chiropractor 1-2 times a week to relieve the constant pain in my lower back and hips as well as what's in my shoulders and it was a great relief to find a

heating pack

that gets as HOT as I need it to be to stop the pain and force my nerves to calm down. It's also a great relief that it lasts as long as it does. I'm still having to heat it up just not as often. I also find that the Thermal-Aid heating and cooling pack is allowing me to wait a little longer on seeing the Dr - about 4-5 days now instead of 2-3. It dulls the pain enough that by nightfall I can go to bed without deep pain that keeps me awake or having to take a big dose of pain medicine to cut the edge.
Thermal-Aid Heating & Cooling Packs are 100% natural, the filler is manufactured using a unique process, which allows a specialized corn to hold temperatures for long periods of time. The corn kernels are very hard, resists mold, fungi and foul odors often associated with natural heating/cooling products. (I can't tell you how much I love that there isn't a strong medicinal smell nor a strong herbal smell.)
Thermal-Aid is sponsoring our Winner Wonderland Giveaway this year. One of my lucky GivingNSharing readers will WIN a Medium Sectional Heating & Cooling Pack for their family to use. You can use it HOT like I do - or COLD for sprains, twists, heck - on HOT Summer days to cool down!
Thermal-Aid products are ideal for anyone with a chronic illness - they are Dr Approved and University Tested so Thermal-Aid can proudly stand behind their product (and I can too!).
Classic Children's Books will be giving away 5 (yep 5!) of the Zoo Animals away. 1 lucky winner will also WIN The Nutcracker Music Game for their kids to enjoy on the computer as well. Click Here for more details!
Learn more & Purchase yours online @
http://thermal-aid.com
Facebook
Twitter
Pinterest
YouTube
Enter Here:
This giveaway will run from 12/1 until 12/15 @ 11:59 pm - Open to US residents only.
(RC Gadget has been removed & Winner Drawn)
**** Winner is Sherry Strode

****
Address Request -
All entrants MUST provide their complete address so when I draw the winner I can forward it to the company and they can fulfill the winner's prize immediately. If you do not wish to leave your full contact information please do not enter this giveaway. I am the only one that sees your information unless you are the winner & then it's forwarded to my contact for shipping purposes only. This enables me to complete the giveaway right away and not have to wait for someone to respond to their email - and I don't have to keep drawing names until someone responds.
What? You want MORE Giveaways? Check these out:
Disclaimer: Please understand that Blog It Forward, along with the "Winner Wonderland Event" bloggers are not responsible for sponsors that do not fulfill their prizes. However, we are responsible for contacting our sponsors regarding the winner's prize at the close of the giveaway. We expect that our sponsors will fulfill their prize agreement and ship them to the winners in a timely manner.
YN75BFTC4MDH