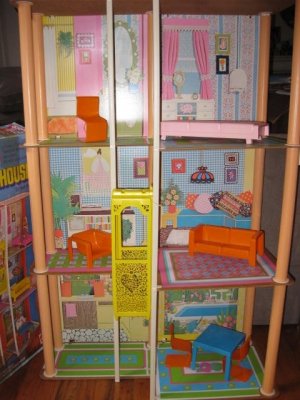 Did any of you grow up playing with Barbie? I inherited a LOT of Barbie stuff when I was about 8 from my cousin (I think I had 1 Barbie before that). I ended up getting the Barbie Townhouse, airplane, boat & camping set (tent, pool, etc) growing up and between my cousin who had the camper, horse, a huge wooden house her mom built her one year and the 30 dolls between the two of us we had a LOT of Barbie. I really wish I still had all my stuff for my kids now!
Please note: this is a sponsored post by Mattel. (I cannot get this to show up at the top or in the title field - if anyone has any ideas why please give me some tips - Thanks!)

Last Wednesday I received a giant box containing the Barbie Dreamhouse during naptime and was treated to 3 very excited girls (20 mo, 4 1/2 and a 5 1/2 playdate friend) when they woke up.

Barbie has REALLY come up in the world folks! Wow!

The Barbie Dreamhouse is a HUGE dollhouse for our friend Barbie. It's very sturdy around toddlers, doesn't tip easily unless they are pulling on it. I think this is probably for kiddos 3 to 3 1/2 and up. Gianna though loves playing with barbies, loves helping Barbie go potty and wash her hands & watch the fish tank so I probably won't be able to keep her from it. =D

Barbie consented to my doing a Video Walkthru - I thought it came out pretty good:



Pro's:
1) Very easy to put together. It likely will only take about 2 hours tops to put together if you don't have any little helpers.
2) No screwdrivers, hammers, etc required. Actually the only time you need a screwdriver is to put the batteries in one of the pieces to make all the noises for the fish tank, fan, grill, sink & toilet.
3) The noises aren't going to drive me nuts! I seriously considered NOT putting the batteries in - but well, everyone needs to listen to Barbie flush the toilet, wash her hands & brush her teeth! Right? I think a parent designed this aspect of the dollhouse - it's really not annoying at all. So far.
4) The dollhouse is sturdy enough for 20 month old Gianna to reach up, pull the fridge open, use the elevator lever once she figured out that you need to press the button to get it to move. I was VERY pleased with this. After a day of playing with it though I ended up removing the elevator & front door and we'll put them back on when she is not around for the older girls. They informed me they don't want to play "invisible stairs".

It will make a GREAT bribe for the 4 year old - she's kind of whiny and argumentative and not so nice to the toddler - I've informed her if she wants to play with it she needs to be kind to her friends, not whine so much & be kind to Gianna (no more hitting her).

Con's:
1) Lot's of little pieces:
2) Very big - At about 4' by 3' it's a little larger than the bookshelf my kid's toys are on in the living room. For now, we are going to keep it in the hallway and I'll get a light so they can see to play. We'll need to move it by my desk so 2 girls can play with it at a time. I'm just not sure where it's going permanently at this time.
3) As I put it together I made notes in my mind on what I needed to make sure the kids were careful about when using it: Don't pull on the chandeliers (I've already taken one away from the 20 month old), Don't lean on the edges & balconies and Don't pull on the Elevator & front door.

If you are planning for Santa to bring the Barbie Dreamhouse to your house for Christmas this year he will be very popular for a LONG time - you might start now telling them they need to be REALLY good. If it helps, I put a Santa shaped soap dispenser in the bathroom - Santa can see at a glance if they have washed their hands and I can tell the girls that I'm going to visit with Santa if they are acting up. Works a charm when they are fighting, backtalking and you can't get them to do their chores! Yeah, I TOTALLY believe in Santa!

Disclaimer: I received this toy from Mattel in exchange for my honest review. Regardless I only recommend products or services I have personally read or used & think my readers will enjoy.