Amy came to Rosemary Cottage to grieve, to heal, maybe even find love. But there's a deadly undertow of secrets around Hope Island. . . The charming Rosemary Cottage on the beach offers Amy Lange respite she needs to mourn her brother, Ben. She's even thinking of moving her midwife practice to the Outer Banks community. It's always been a refuge for her and her family. She also wants to investigate Ben's disappearance at sea. Everyone blames a surfing accident, but Amy has reason to wonder.
Coast Guard officer Curtis Ireland has lost a sibling too. His sister, Gina, was run down by a boat, leaving him to raise her infant daughter. If anyone knew who little Raine's father was, Curtis could lose his beloved niece. Yet he can't help being drawn to Hope Beach's new midwife, Amy. He even agrees to help her investigate what happened to both Ben and Gina.
Can two grieving people with secrets find healing on beautiful Hope Island? Or will their quest for truth set them at odds with each other . . . and with those who will go to any length to keep hidden things hidden?
My thoughts:
Opening with the murder of Gina as she is surfing out in the rough water of the Atlantic Ocean while her brother and 4 month old daughter are waiting on shore Rosemary Cottage takes us into a story that held me captive while reading it. There is a serial murderer of sorts on the little island of Hope Beach. I found the story enjoyable, the romance was interesting but the mystery behind the murder wasn't quite as believable. At least not at first....
There are other little stories woven into Rosemary Cottage. Amy and Curtis are both from very wealthy families altho their families are very different. Amy moves there believing that her brother was murdered but her family isn't supportive in her search. There is history between her brother and Curtis's sister Gina and a lot of action while Curtis and Amy conduct their "investigation". It's not a "fast" moving story but very interesting and it will keep you wondering till the end.
I will say that the last few chapters of the book really pushes the intrigue and mystery up a few notches. The ending totally surprised me and I loved how the romance ended. If you need a rainy day or book to read in front of the fire in the winter this little book will keep you busy for a few hours. Add it to your kindle to read when you have a spare moment or two to read.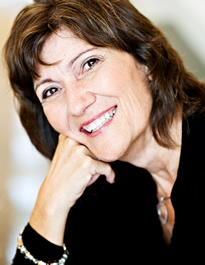 Best-selling author Colleen Coble's novels have won or finaled in awards ranging from the Best Books of Indiana, ACFW Book of the Year, RWA's RITA, the Holt Medallion, the Daphne du Maurier, National Readers' Choice, and the Booksellers Best. She has nearly 2 million books in print and writes romantic mysteries because she loves to see justice prevail. Colleen is CEO of American Christian Fiction Writers and is a member of Romance Writers of America. She lives with her husband Dave in Indiana.
Find out more about Colleen at http://www.colleencoble.com/.
Disclaimer: I was offered a copy of Rosemary Cottage in exchange for a book review on GivingNSharing. I was not required to have a positive review and no money exchanged hands. Thanks for reading GivingNSharing!