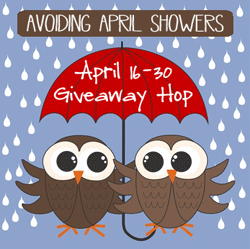 Welcome to the Avoiding April Showers Giveaway Event. This event is hosted by
Put A Little Umbrella In Your Drink
,
My Mommy's World
,
Taking Time For Mommy
and
And The Little Ones Too
. This event features giveaways with a value of $25 or more at each of the participating blogs! Be sure to visit each blog from the linky below and enter for your chance to win! This event will close on April 30th at 11:59 pm EST. Good Luck!
Are you up for the hunt? Looking to do a little WINNING?
Want to get some LOOT? It's time for Avoiding April Showers!
GivingNSharing has a real treat for you! Each week I get in my email mailbox a menu already made up for me with the
dinner menu of the week, grocery shopping list, cooking instructions and lots of time and money saving tips. Toni Spilsbury is
The Organized Cook & she does all the planning and organization for me!
What I like about this menu program is that each meal is made up of normal foods (read that: no octopus, no spam, no funky little tablespoon sized glob of food) - it's food that almost everyone will eat - kids, husbands, the dog, the cat.....
Toni Spilsbury's passion is providing her family of 5 with nutritious, wholesome meals just like you. She has created a way of cooking through detailed planning and organization & she understands how busy today's family is. Recently she released a new book:
The Organized Cook- Busy Mom's Remedy to Dinnertime Ruts and Runaway Grocery Bills
which helps other on-the-go moms save time and money at the grocery store and in the kitchen while cooking healthy delicious family dinners.
Toni provides a few methods that you can use to provide those same nutritious meals to your family.
& check it out for yourself!
The Organized Cook™ Weekly Meal Plan
Never again worry about what to make for dinner! Cut your grocery shopping & dinner preparation time up to 70%! ~
Subscribe now for $12.99
~
Normally these are
$6.99 each so $12.99 is like getting a months worth of
plans without all the work that menu planning requires!
(An Ideal gift for a New Mom or Bride!)
Buy The Book
3 months of menus from The Organized Cook Weekly Meal Plan System includes grocery shopping lists, cooking instructions & lots of time & money saving tips in 1 book. Stick in your purse, save time & money at the grocery store & in the kitchen! Order Here for $16.99
Win It:

(172.87 Value!)
Toni Spilsbury (that's The Organized Cook) has generously offered one of our readers a copy of her Cookbook AND a One Year

FREE

subscription to The Organized Cook Weekly Meal Plan! Your family is going to be eating really, really well for the next year!
Be sure to check out all the other blogs that are participating in this Mega Giveaway Event - all 150 of them! The linky is below my Rafflecopter Entry Form.
a Rafflecopter giveaway
Here is a linky with all the other blogs participating. Remember there is a minimum amount for each giveaway of at least $25 & I'm sure there will be several over a $100 like mine (and even higher)!
Disclaimer:
Please understand that Put A Little Umbrella In Your Drink, My Mommy's World, Taking Time For Mommy, and And The Little Ones Too along with the other "Avoiding April Showers Event" bloggers are not responsible for sponsors that do not fulfill their prizes. However, we are responsible for contacting our sponsors regarding the winner's prize at the close of the giveaway. We expect that our sponsors will fulfill their prize agreement and ship them to the winners in a timely manner.