This drawing has ended & the winners have been contacted.
Welcome to the 2nd Annual Follower Love Giveaway Hop! Hosted by Kathy from
I Am a Reader, Not a Writer
and
Rachel Renee Anderson
. For the next 8 days, you will find 328 blogs participating in reviews and giveaways of interesting books, book paraphernalia and more!
This week be sure to return back to GivingNSharing for my feature author - Linda Weaver Clarke. We will be featuring two of her books, along with an interview and a giveaway (of course). At the bottom of this post you will find the linky to hop around.
Anasazi Intrigue
by Linda Weaver Clarke
ISBN:

978-1589825871
ASIN:
B0048ELLN4
$19.95

Paperback
$9.85 Kindle
About the book:
When a devastating flood wipes out homes in a small town,
residents are shocked by the news of a possible poison spill that
also kills many of the fish and neighbors' pets. The people don't
know what to think or do, until Julia, the town's newest reporter,
jumps into action and begins her investigation. Quickly Julia
realizes the story is much bigger and more dangerous than she
thought.
As information unfolds, Julia and her husband find themselves
on the run, trying to save their lives while finishing the story
of a lifetime. Will Julia and John be able to get the scoop and
survive?
The Intrigue Series:
My thoughts:
Anasazi Intrigue

is the 1st book in The Intrigue Series by Linda Weaver Clark. My interest in archeology & the Mayans and Aztecs has been part of me since I was in about 5th (9 yrs old) grade and so I was intrigued (grin) when I read a review on another blog and entered to win the book - and I WON it! Linda found out I had a book blog of my own and 6 months down the road I'm finally caught up on my own reading (and all 3 blogs) to have time to read this wonderful series of books.
I actually started with Anasazi Intrique (what I thought was book 2). I wasn't sure which book was book 1 so I just started in. The nice thing about the books is that each is self-contained and if you read it out of order that's OK - you won't be totally lost! Anasazi Intrigue is the story of The Adventures of John & Julie Evans. Julie is a news woman who longs to bite into a "real" story - something with meat and substance and wants to prove herself to her coworkers.
Julie and John both have a heart for the people and head out one day to help the victims of a flood and as they are pitching in where they can Julie comes across dead fish and animals in an area seemingly untouched by the flood. Julie's intuition tells her something is wrong here and she ends up bring home a dead cat and the dead fish to be tested. The result shows that they have been poisoned and Julie talks her newspaper into allowing her to investigate and write a series of articles on the flooding and it's affect in the area along with the poisoned wildlife.
This is a very interesting series.

Linda Weaver Clarke

is an experienced writer who has written many books and it shows in the writing of this series. The books are
well researched, well written and smoothly flow from one scene to the next. The characters are thought out and each thread is completed by the end of the story.
I personally had some trouble getting involved in the story at first but by the end I wanted to know what was coming up next and was looking forward to reading the Mayan Intrique.
Please Tweet: "

Stolen artifacts, a devastating flood, and mysterious events - #KINDLE Book!! RT @familyliteracy WW Win It 2/14 @ http://tiny.cc/zlayw

"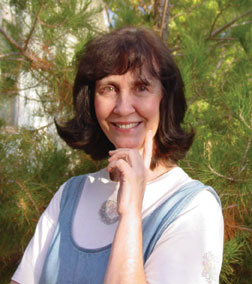 You can purchase any of the books from The Intrigue Series by Linda Weaver Clarke on Amazon. They are available in a paperback or for your Kindle. Click here to purchase

Anasazi Intrigue

.
Learn more about Linda Weaver Clarke:
Linda has very generously offered a Kindle copy of Anasazi Intrigue and a copy of Mayan Intrigue - 2 winners - 1 book each! Again, be sure to come back throughout the week, Tweet the giveaway, read my review of Mayan Intrigue (Thursday) and also my interview with Linda (Saturday).
a Rafflecopter giveaway
Disclaimer: This book was provided to me as a review copy. I was not required to provide a positive review and no money exchanged hands. At the time of this post these prices were accurate and may have already changed, please keep that in mind.